Perché Italia?
For the past four years, my husband and I have been lucky enough to take an annual trip to Italy and explore the various regions. Each year, we get more and more off the beaten path… and each year, we fall more and more in love with the Italian culture and way of life! Where did this interest come from? Well you know in college when you have to study a foreign language? I didn't want to study the typical (and ever-so-practical) Spanish. I'd learned bits and pieces growing up and took formal classes in high school, so I chose a language that is completely impractical and only spoken in a handful of countries… italiano! As a side note, my mom was adopted and found her family later in life. Her father happened to be Italian and that may be where the interest initially spurred from. Also, I love pasta… so it could definitely be that!
In the beginning, my interest was not shared by husband. Neither of us knows why, but he just didn't think Italy and the culture seemed cool. Fast forward to today and he comes home from work, puts on an Italian radio station that he specially downloaded, and insists we only speak in Italian for one full day a week. No complaints here!
Past Trips
In 2016, we planned our first trip to Italy together. We took a more touristy itinerary, stopping in Roma, Cinque Terre, and Firenze. It was beautiful and amazing, but much too short! The next year, we coordinated our trip around Thanksgiving when prices were low for the off-season. We flew into Milano, ate to our heart's content in Bologna, and visited the famous canals of Venezia. It was once again too short, but we loved experiencing a different part of the country during a different, much colder season. In 2018 we were lucky enough to take a two-week trip to none other than Sicilia! To say it was amazing would be a radical understatement—it's by far my favorite place I've ever visited! Since then, we've been on one other amazing trip, but that's a story for another day and blog 😉
Many friends and family showed interest in our trip and itinerary, so I figured I might as well share all the juicy details! Be forewarned though, this is a LONG blog full of selfies and ramblings!
---
Sicilia 2018
Day 1: Travel and evening in Catania
Traveling to Europe from the U.S. is always a long trip, but going to Sicilia is even longer because there aren't any direct flights. We stopped in Rome and unfortunately missed our connection. Luckily we were able to hop on a later plane and arrive to our final destination of Catania that evening.
While we typically stay in vacation rentals, we scored an affordable flight + hotel bundle ticket, so our first night we stayed at the Liberty Hotel in the city centre which was perfectly situated and welcoming for a one-night stay.
I don't know about you, but I don't sleep well on planes. And we've learned from past mistakes that you MUST stay up the first day or you'll really struggle to adjust to the time difference. We literally slept away the first day of our honeymoon in Ireland and didn't truly adjust for an entire week. So despite our exhaustion, we forced ourselves to explore the city and have an early dinner before retiring for the evening.
Day 2: Etna Hike & Gambino Vini
On our first true day in Catania, we scheduled an AirBnb experience with an amazing local guide, Alessandro with Associazione "New Routes". He picked us up bright and early and took us on a beautiful hike up Mount Etna, or Mongibello as the locals call it. Mount Etna not only has gorgeous views, but it's one of the most active volcanoes in the world! It's basically always experiencing some sort of activity and you can often see smoke billowing from miles away. Alessandro was ever-so-knowledgeable about the history and geology of the mountain and went out of his way to make sure we had a great time!  It's safe to say that it was a pretty darn cool experience—I mean, it's not everyday that you hike up an active volcano!!!
Afterwards, Alessandro took us through the town of Zafferana to stop by a local caffè for some street food. We tried our first arancini, which is basically a fried ball of rice cooked with meat sauce and is standard fair in Sicilia.
Following lunch, was a tour of the Gambino Winery—located right on the side of Mount Etna! Mount Etna's volcanic soil is some of the most fertile ground and an excellent place to grow grapes and other crops. Not to mention, it provides a great view! After tasting more wine than I remember, we grabbed a few souvenir bottles and headed back to our hotel—it was already 9 pm! Alessandro certainly provided a packed day full of hiking, food, and wine—it doesn't get much better than that!
Day 3: Teatro Antico di Taormina & Gole dell'Alcantara
The next morning, we woke up early to catch a bus to Taormina, a picturesque hilltop town with an ancient Greek amphitheater that rivals the Colosseum in Rome. The Teatro Greco is still used for concerts today and has a stunning view of Mount Etna from one side and gorgeous blue water on the other.
After our morning exploring the theatre, we hopped on a bus that took us to Le Gole dell'Alcantara, a river surrounded by impressive gorges and valleys. The edges of the river have dramatic rock formations created thousands of years ago when Mount Etna's lava flowed through and was cooled by the chilly waters. Locals gathered to take a dip in the cool water while foreigners explored the splendid paths surrounding the river. Unsure of how the water would be situated, we left our cameras back in our rental and only had our cell phones—we of course snapped a few shots, but were unable to truly capture the beauty!
After a long, activity packed day, we ate a quick dinner at L'Arco, a delicious takeaway pizza shop in town.
Day 4: Sunrise in Taormina & Drive to Scopello
Taormina is a beautiful, but very touristy town. With winding streets and picturesque views around every corner, it's a hotspot for trips to Sicily and can get extremely crowded at times. To truly see the town, we woke up at dawn and explored before all the tourists were out and about—and it was absolutely worth it!
We hopped on a bus back to the Catania airport where we picked up a rental car for the rest of the trip. Driving in Italy is not for the faint of heart, but once you get used to it, it's actually kind of nice! People honk. A lot. But it's not like America where they are doing so because of road rage, but simply to let you know they are there. The streets are small and windy and you have to be an aggressive driver to get anywhere. I left the task to my husband since he likes driving much more than me. He'd never driven in Italy and a lot of people warned us that Sicily was not the place to learn… but you really can't get off the beaten path without a car, so we said, oh well! And guys, it was fine. You have to be careful in everything you do when you travel and this is no different. Pay attention to signs and your surroundings and you won't have any problems.
So we drove across the island to the small beach town of Scopello. We rented an absolutely adorable cottage overlooking the sea with two bedrooms, a spacious porch, and even an outdoor shower! And do you know how much we paid? $50 a night! Seriously. It was within walking distance to the center of the village and a short drive to a breathtaking national park. We soaked in the view and headed to the baglio for dinner. In Sicily, the baglio dates back to the sixteenth century and refers to courtyards that were once part of farms. Nowadays, small towns are built around them and many agriturismos have restored them.
Views from our cottage were to die for!
Day 5: Tempio di Segesta & Erice
In the morning, we drove to Segesta to see the famous Doric temple that was constructed around 420 B.C.! It's nearly perfectly preserved although a roof was never built. While there are many Greek temples and amphitheaters in Sicily, Tempio di Segesta is one of the best preserved and is much less touristy when compared to the well known Valle Dei Tempi in Agrigento.
After spending the morning exploring the archeological park, we followed some old wooden signs for miles and miles on winding dirt roads through what seemed to be private property and farmland. We were rewarded for our curiosity with a very charming, very remote, and very empty agriturismo that generously welcomed us in for a deliciously cooked fresh meal and wine!
That afternoon, we relaxed a bit at our rental house and did some laundry before heading out to explore the commune of Erice, an alluring little mountaintop town in the sky. And when I say "in the sky," I mean it's quite literally IN THE SKY!  We drove up the tightest winding road I've ever seen and arrived at the tallest point in sight. Erice is a cute little town with cobblestone streets and spectacular views of Trapani and the Mediterranean Sea. We wandered around, ate some cannoli, and people watched when suddenly the bright sunny community center transformed into dark, desolate, and dreamlike.  I'm not sure where all the people went, but the clouds were breezing through the streets in a way I can't describe. So naturally, we got lost… and it started to feel a lot like we were in an episode of the Walking Dead. It was a fun little adventure that ended with us driving down the unbelievably curvy mountain road in the dark, but I wouldn't change a thing about the day!
Day 5: Riserva Naturale dello Zingaro
The next day we slept in and enjoyed the morning on the porch before grabbing a quick bite to eat and heading to Zingaro Riserva Naturale. We sunscreened up, put on our walking shoes, and started hiking the path. Zingaro is a gorgeous park perched on seaside cliffs with miles and miles of trails. We walked for a while before taking a side path down to a secluded beach. I say "secluded," but while it may have been hard to get to, it was by no means empty! The locals had all hiked and boated their way to the cove with coolers, beach chairs, and umbrellas to spend the day in the sun. It was crowded, but relaxed—a vibe that Italians have definitely perfected. We staked out a spot and settled in on the nice pebble beach. All afternoon, we laid around soaking in the sun, took dips in the cool blue waters whenever we got hot, and left all our worries behind us. It was beyond relaxing!
Back in Scopello, we grabbed some takeaway food at Panificio di Stabile e Anselmo, a bottle of wine, and watched the sun set over the Mediterranean Sea on our patio.
Day 6: Day Trip to Palermo
This was a very early morning. We woke up two hours before sunrise to drive to Palermo where we had a photo shoot and explored the city. Vacation photography is something that I decided is worth the investment and have been searching out photographers for our big trips ever since. Traveling can be cheap, but it isn't free. If we're spending all this time and money getting across the world, why not document it with more than just selfies? At least, that's my thought. I'd rather eat street food and forgo the fancy restaurants in order to splurge on professional photography and have beautiful images for years to come!
I'm going to do an entire separate blog series with the professional photos, but it's safe to say that we saw some really cool stuff in Palermo!
Day 7: Valle dei Templi in Agrigento
We were scheduled to leave on day seven and were not happy about it—Scopello had been our favorite place and we were literally scheming ways to move there. We couldn't change our whole itinerary around, but we did manage to coordinate a late checkout so we could have one more morning in paradise. We hiked back to the secluded beach and to our surprise, it was actually deserted this time! It was early in the morning and happened to be a weekday, so the locals were all back to work, leaving a private and dreamy spot to relax one last time. If we ever go missing, I'm willing to bet we've run away to Scopello—just a head's up to all our friends and family!
After reluctantly leaving, we drove towards Agrigento where we checked into an agriturismo called L'Azienda Agricola Martorana. Once at the farm, we dropped our bags off and headed to the Valle Dei Templi. I wasn't feeling well for whatever reason and was so tired walking around. This was the spot Nelson was most excited to see, so I tried to play along, but really struggled. It was a bummer because there is so much history there, but I couldn't tell you much about it because I was so drowsy and sick feeling.
Once back at the agriturismo, we settled in for our dinner reservation. The food was seriously so delicious, but I was feeling so bad I couldn't even enjoy it! I was sad because this was the meal I was most looking forward to.
This cute farm dog greeted us on the way to our agriturismo!
Day 8: Agriturismo
La Casa di Bacco 
& Drive to Modica
The next day, we explored the farm a bit and befriended alllll the animals. There were goats, dogs, horses, donkeys, sheep, cats, chickens, and even a peacock! While watching the sheep, an old farmer came out to feed the animals. He didn't speak any English, but we were able to semi successfully talk with him (in Italian, of course!) and found out that the baby sheep would not eat and he was trying to entice him. It was a really cool experience and we stayed to watch and chat for a bit before packing up to leave.
That afternoon, we drove to Modica, a baroque town in the hills of Southeastern Sicily, and checked into our AirBnb. The apartment had a huge balcony with a stunning view of Chiesa di San Giorgio! We relaxed that evening with a low-key meal and wine on our balcony.
Not a bad view from our balcony!
Day 9: Day trip to Ortigia, Siracusa
Our first day in the southeast, we took a day trip to the small island of Ortigia in the city of Siracusa. It's full of history and is a very popular destination! As a tourist, you can't drive in Ortigia, so we parked the car and started walking. I'd read about a panini shop that was cheap and supposedly the best of the best. So we decided to grab lunch before we explored. Only there was a LONG line. Like it took two hours… and while the panini was good, nothing is worth that long of a wait!
After lunch, we grabbed some gelato and strolled around the narrow cobblestone streets, window shopping, and admiring the sea views and churches.
We made it back to Modica just in time to shower and get dressed for our dinner reservation at Ornato where we ate all the sea creatures you could imagine! Five years ago I would have been shocked at my daring appetite, but I'm now much more adventurous and like trying new things… unless they have onions!
Day 10: Spiaggia Marianelli in Vendicari & Noto
The next morning, we took our host's advice and went to a nice local beach in the Vendicari Nature Reserve. Unlike many Italian beaches, this was covered in beautiful white sand. We laid out our towels and enjoyed the morning. The water was gorgeous and weather was perfect! While it was a super relaxing time, I must say that I much prefer the more common pebble and rock beaches that Sicily has to offer. Sand is more comfortable to walk on, but it gets EVERYWHERE!
In the afternoon we drove up to Noto, a small baroque town with beautiful 18th century architecture on every corner. We grabbed lunch at Sabbinirica A Putia D'Ericole and cooled down with some granite at the famous Caffè Sicilia. A granita is kind of like an icee flavored with real fruit and originated right here in Sicily—almond is my favorite!
Day 11: Laghetti di Cavagrande del Cassibile
I read about a hidden little paradise called Laghetti di Cavagrande Avola that is said to be "closed" since 2006, but is still very accessible. On our drive there, park attendants tried to tell us we were not allowed, that the laghetti we were looking for were in the other direction, and that we had to pay them for parking—but as the online reviews advised, we continuously refused and kept driving to the restricted area ((it was very strange and a bit nerve-wrecking to disobey authorities in a foreign country, but that's what we did!))
Once we got to the free parking area, the trail down was clearly closed and locked behind a gate…but there were crates built into steps and a small snack bar that was very much open. I overheard someone explaining that while the trail is officially closed, they don't really stop people from hiking down it. We saw a family with children hopping the gate and decided to keep going! The hike down was SO LONG AND SO HOT, but it had beautiful views and we were greatly rewarded with an oasis of small lakes and waterfalls along the Cassibile River where we spent the day.
We spent our last night enjoying a bottle of wine on our unforgettable balcony in Modica
Day 12: Morning in Modica & Drive to Catania
This was our last real day in Sicily, so we woke up early and went to our favorite caffè to grab my favorite breakfast in the world—a ricotta cornetto and cappucino. Oh how I miss those! They literally make the ricotta to order and it's nothing like you've ever had!
We strolled the streets one last time before heading out of town and happened upon a four-legged friend roaming around! We called him over, gave him a few ear scratches and belly rubs, and went on our way… or so we thought. This guy followed us EVERYWHERE! He wouldn't necessarily stick right by our side, but he would wander off and explore. Then when we'd head in a different direction, he'd come bounding behind us. We loved the company, but felt bad knowing that we'd have to leave him in a couple of hours, so we'd sneakily dodge into side streets to lose him. Didn't work, he always found us. Eventually we had to go back to our Airbnb and pack up—and predictably, he followed us there and waited outside as we ((half-seriously)) googled how hard it is to bring dogs back to the states from abroad. It's not too terribly hard, but we didn't have time to figure it out—plus our little pup Brenya wouldn't have liked the surprise. Fortunately after about an hour, the dog gave up on us and strayed off. We all knew he was meant to stay a city dog, but it was a nice goodbye from the town of Modica!
That afternoon, we hopped into the car one last time to return it to the rental place and check into our AirBnb back in Catania. Our flight was early in the morning so we had an early dinner and reluctantly went to bed, already dreaming of our next trip!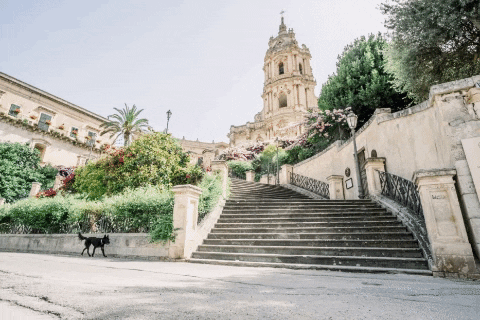 ---
And that's all folks… if you read all the way to the end, I'm seriously impressed! I'll be adding more blogs to the Sicily series showcasing our photo shoot in Palermo with the ever-so-talented Anna Vlasik Photography <3